HostGator is one of the most popular web providers in the industry, hosting over 10 million domains. It's a wise choice for every website owner, with 1-click WordPress installation, 99.9% uptime guarantee, and 24/7 support. They are the best web hosting for businesses in our opinion. They are providing a discount, as well as a free domain name and SSL certificate.
HostGator's headquarters are now in Texas, and the company employs over 1000 people who work to host over 2.5 million websites throughout the world.
Endurance International Group (EIG), which also owns Bluehost, Hostmonster, Site5, and other hosting industry titans, purchased HostGator in 2012.
Provo, Utah, and Houston, Texas are home to the majority of their servers. You may also use CloudFlare to transit your traffic through an additional 23 data centers across the world.
HostGator is one of the world's largest and most well-known hosting businesses. They provide shared hosting, virtual private servers, dedicated servers, and managed WordPress hosting.

Every hosting package from HostGator comes with unlimited bandwidth and storage.
Basically, this means that you have unlimited bandwidth and storage capacity. However, it must be in accordance with the resources available to the hosting firm. It would be beneficial to review HostGator's usage policy so that you are aware of the restrictions.
HostGator provides a free SSL certificate that protects your website domains and encrypts interactions between the server and your website visitors.
They also provide a few extra security features, such as the option to monitor your site with SiteLock. This program will run every day, looking for any potential site breaches or hacks and notifying you immediately if one is discovered.
Furthermore, their email plans include Spam Assassin, which helps prevent spam from entering your inbox in the first place.
If this isn't your first website and you're looking to migrate an existing one, HostGator can help.
You'll have 30 days after signing up to contact them and have them assist you with moving any site files, databases, scripts, or even a domain name.
This includes a complete cPanel migration. You're covered if you have many site installs (such as subdomains for a single huge site).
A single site (or cPanel) migration is provided with all HostGator shared hosting plans. Different plans, such as resellers, will have access to greater resources (up to 30).
When compared to some hosts, a single free site migration isn't much. However, it is still preferable to nothing.
HostGator is so confident in their service that they've increased the industry-standard 30-day return policy to 45 days.
That implies you can use them for more than a month and still get your money back if there are any problems.
All shared, reseller, and VPS hosting packages come with a 45-day money-back guarantee.
Only new plans or accounts are eligible for refunds. If you previously signed up for one and are canceling a renewal or second attempt, you will not be reimbursed.
HostGator is designed specifically for newbie bloggers and webmasters.
Their website has a wealth of tutorials, walkthroughs, and other resources to assist you in navigating the perplexing world of DNS and data centers.
They also include extra features for beginners who want to set up a site without having to hire someone to design, construct, and manage it for them.
Gator by HostGator, their website builder, is one of the finest ones we've seen. It includes free hosting and a domain name, so you just need to buy one account to cover all of your needs.
To begin with, the changeable templates are all rather current, and you can quickly customize their appearance by dragging and dropping each element. You'll also get free site analytics and an SSL certificate to protect your visitors' personal information (like their physical location).
The control panel used by HostGator is cPanel. If you've worked with hosting before, you'll be right at home with cPanel, which is one of the most widely used control panels in the industry.
Even if you're a complete novice, it's simple to use and doesn't have a steep learning curve.
Is it possible to set up a professional email account with HostGator?
HostGator will provide you with free unlimited email addresses regardless of the shared hosting package you choose. However, it is up to you to configure the email client. Rest assured that the setup process is simple and takes only a few minutes, even for beginners.
Simply go to your HostGator dashboard and click on the "Email Accounts" option to set up an email client. Alternatively, you can access it via cPanel's Email section by clicking the "Email Account" icon.
HostGator website builder
The hosting provided by HostGator may be adequate, but I observed something noteworthy that is hidden in plain sight. If learning WordPress is too much at the time, Gator Builder is one of the nicest and simplest website builders. It is simple and straightforward to use. Plus, with your hosting account, you can construct up to 6 pages for free.
HostGator Performance Stats
Uptime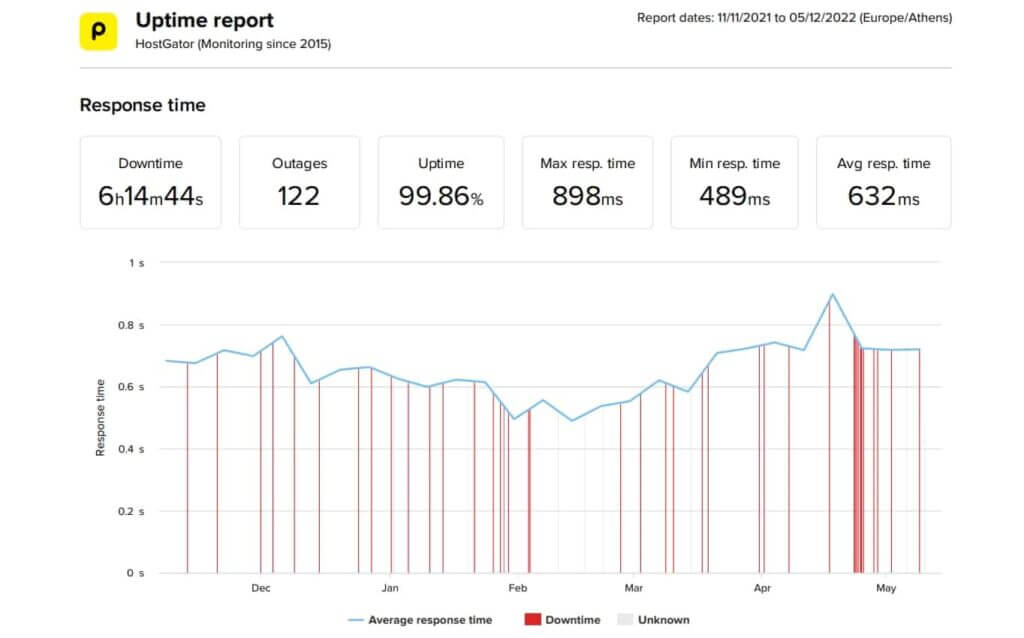 Over the last six months, HostGator has averaged 99.86 percent uptime with just over six hours of downtime — not excellent.
However, they do have an uptime guarantee, which states that if their uptime falls below 99.90 percent, you will receive a one-month credit on your subscription.
Over the last six months, HostGator's average page loading time was 589 milliseconds. This isn't the fastest speed we've ever seen, but it's adequate.
Furthermore, HostGator has significantly improved its page loading times. It used to take longer than a second for our website to load.
Why is it important to have a fast page loading time?
Slow page loading times have been proved to have a direct influence on your visitors' experience. And that has a negative impact on your bottom line.
You can speed up your site without switching hosts by doing a few things. However, if your host is continually slow, you'll be fighting a losing battle all the time.
Is HostGator the Right Hosting Company for You?
HostGator has a wide range of hosting options to suit all budgets and needs. They provide all of the user-friendly tools required to create a website.
HostGator has already gained the trust of over 2 million consumers. Whether you're an experienced Internet veteran or just getting started with your first website, you'll discover all the tools you need to take it to the next level.
Rating: 8.9/10
With just one click, you'll be ready to build your own website. It's that simple.