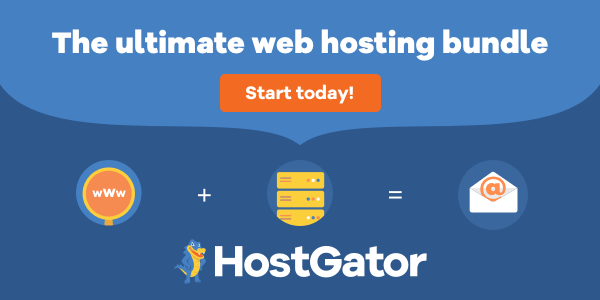 HostGator is a fantastic web hosting provider that provides bloggers and small businesses with a variety of useful features, including a fantastic website builder.
One-click installs so you can build happy
HostGator offers various website-building options, including the superb and simple-to-use Gator website builder. You can rapidly create an appealing page with slideshows, contact forms, social media links, and more using the drag-and-drop capabilities.
You can also use WordPress or other content management systems like Drupal, b2evolutions, Joomla, Mambo, and Tiki. You can create a website by manually uploading files to the server using a File Manager application. Because you may edit files directly or use the built-in HTML editor, the program is superior than a basic FTP client.
If you sign up for at least 12 months of cloud, shared, or WordPress hosting with HostGator, you'll get a free domain name—dedicated and VPS hosting do not qualify. Although this is not an uncommon option in the web hosting industry, it is a pleasant touch.
However, there are two caveats. The free period lasts one year, and your preferred domain must end in .com, .org, or .net. If you already have a domain name with one of the above extensions, HostGator will transfer it to a server at no cost to you.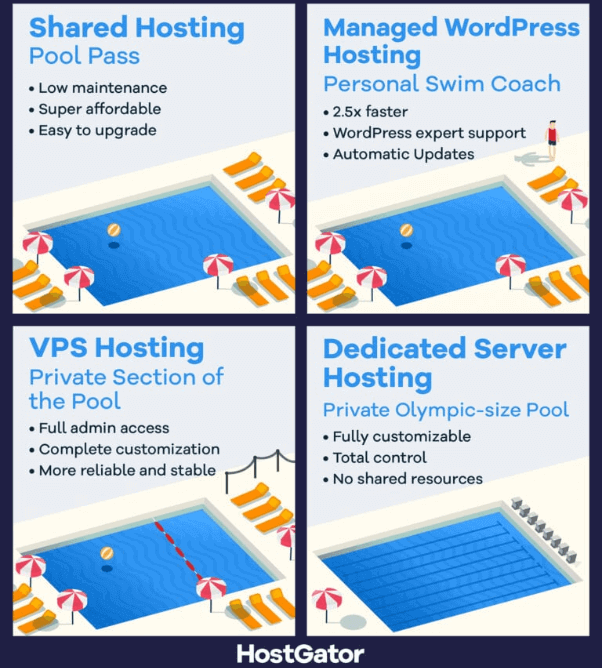 When a provider hosts the websites of multiple clients on the same server, this is known as shared web hosting. Because the server is shared by several distinct websites, the cost is also shared.
As a result, this is the most cost-effective web hosting choice. This is the type of package that makes the most sense for most personal websites, small enterprises, and new websites.
Sharing a server, on the other hand, means that the server's resources are shared among all of the websites on it. There's only so much storage space for files, and there's only so much bandwidth for visitors to all the sites.
If your website becomes too large or famous, or if another website on the server experiences a surge in traffic, your performance may suffer.
If you've outgrown shared hosting or your website's traffic is inconsistent, cloud hosting is a worthwhile upgrade. Even for larger websites with higher traffic, cloud hosting provides more flexibility and quicker speeds.
If your website receives a lot of traffic at certain times of the year but not at others, cloud hosting allows you to pay just for what you use.
Cloud hosting is the best alternative if you want more room to expand and the ability to react to shifting traffic levels.
The term VPS refers to a virtual private server. A VPS package still requires you to share a server with other websites. However, because fewer websites share the server and each one is partitioned off from the others, you never have to worry about your website's performance being harmed by what's going on with another.
VPS plans are more expensive than shared hosting plans, but they are less expensive than dedicated hosting. They're a wonderful choice for mid-sized companies looking for a little more security and consistency.
You'll need a web hosting plan that can support eCommerce features if you're establishing an eCommerce website—one that will sell things and accept payments.
Typically, web hosting services do not include the eCommerce functionality you require; instead, you must purchase separate eCommerce software. However, an eCommerce website requires a web hosting package that guarantees compatibility with the eCommerce software you'll be using, as well as a level of security – such as an SSL certificate – that is appropriate for a website that will be gathering sensitive financial information from visitors.
Dedicated hosting services provide you complete control over an entire web server. You don't share it with other websites; it's solely for your use.
That means you have a lot of space and bandwidth at your disposal, as well as a lot of control over how you use it. Dedicated hosting is ideal for large enterprises with a high volume of visitors or anyone with more complex website requirements.
As a result, specialized plans are more expensive than other options. They provide a unique value that is worthwhile when you require it. However, many new websites provide more than you require right away.
The 6 Most Common Application Hosting Types
You'll need hosting that's tailored to the application you'll be utilizing. The six most prevalent types of application web hosting to examine are as follows.
With just one click, you'll be ready to build your own website. It's that simple.