Excel's Power Query and Power BI will help you master your data.
To fight faulty data, two of the top Excel YouTube channels team up. This book teaches readers the numerous Excel power tactics through case studies and step-by-step examples.
Excel Battles and Overcoming Bad Data
These are tricks that Bill Jelen, "MrExcel," and Oz du Soleil developed over the course of their careers as financial analysts tasked with fast converting mainframe data into actionable information. Data quality, validation, matching lists of data, data consolidation, data subtotals, pivot tables, pivot charts, tables, and a host of other topics are covered.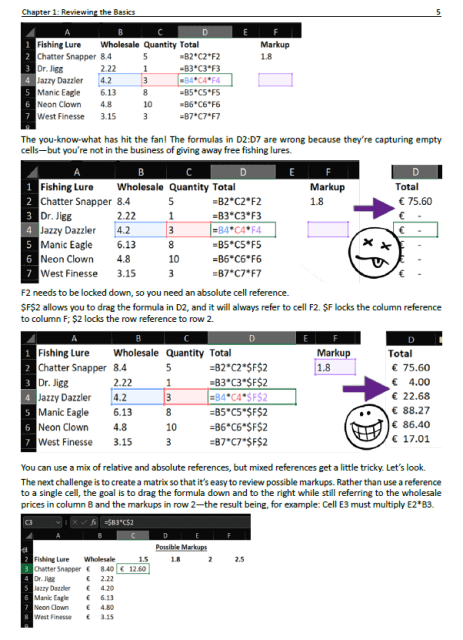 Stop Being a Victim of Bad Data!
"Be aware: This is not simply a technical book about spreadsheets; it is also possibly a complex treatise on how to use sophisticated Excel wizardry (Power Query, Pivot Tables, Dynamic Arrays, and more!) to end unnecessary suffering, resolve data disputes, and accomplish goals.
May this book assist you start the never-ending journey of becoming a "bona fide Excel beast" from a "crude Excel user," but more importantly, may it also enable you to triumph over subpar datasets and emerge as a hero for the people the data is associated with."
Introduction: Welcome to the World of Guerrilla Data Analysis!
Chapter 1: Reviewing the Basics
Chapter 2: Excel Tables: The Glue in Dynamic Spreadsheet Development
Chapter 3: Collaboration Tools
Chapter 4: Summing and Counting with Criteria
Chapter 5: VLOOKUP and XLOOKUP
Chapter 6: Pivot Tables: The Turning Point!
Chapter 7: Power Query
Chapter 8: Conditional Formatting
Chapter 9: De-duping in Excel
Chapter 10: Dynamic Arrays
Chapter 11: Data Is Never 100% Clean (Not for Very Long)
Chapter 12: Data Validation: Controlling Inputs and Maintaining Data Integrity
Chapter 13: Protecting Sheets and Cells
Chapter 14: Octopus Spreadsheets
Chapter 15: INDIRECT
Chapter 16: OFFSET
Chapter 17: Recognizing Patterns
Chapter 18: Data Types and Stock History
Chapter 19: Graphing
Chapter 20: The Dangers of Just Diving In
Chapter 21: The LET Function
Chapter 22: Warnings About Machine Learning–Driven Features in Excel and Power Query
Chapter 23: Avoid Working on Your Source Data
Chapter 24: Using Slicers
Chapter 25: Data Models and Relationships
Chapter 26: People, Processes, and Tools
Chapter 27: Keeping Your Data in as Few Places as Possible
Chapter 28: Rough-and-Tumble Tips and Insights
Chapter 29: Spreadsheet Layout and Development
261 pages
Publisher: Holy Macro! Books
ISBN: 978-1-61547-074-7
PDF ISBN: 978-1-61547-160-7
Price: 14.99$
Be more productive at Excel and impress your BOSS!!